Bespoke EPA Materials Handling
(20/10/2020)
Conductive EURO Containers are often the best solution for storing and transporting static sensitive devices within an EPA. Together, Teknis Ltd and Wez of Switzerland have, for over 35 years, supplied UK electronicsmanufacturing with a world class materials handling system .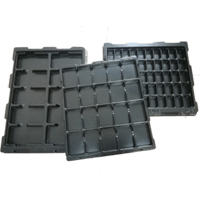 WEZ conductive containers are excellent as stand-alone solutions but with the addition of Teknis' bespoke designed routed foams, conductive trays or divider systems they provide the perfect combination to fully optimise efficiency, storage, and protection.
Teknis have extensive experience in working in partnership with our customers to design, manufacture and deliver a turnkey system to fully streamline the materials handling process.